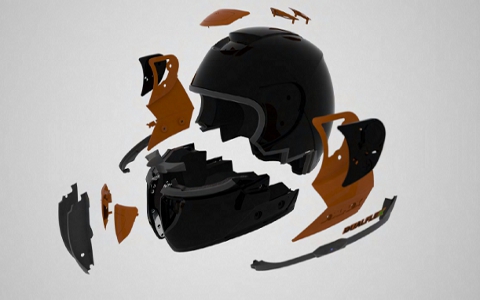 We offer up to 50% share of the company. Management participation will be subject to affinity and/or synergy of the investor to the project.
The DUALFLEX helmet offers efficient first aid, minimal risk of spine injuries and nausea, ultimate wearing comfort and blue tooth without noise disturbance plus a cool design. We developed the ready prototype with defined measures, weight, materials, etc. backed by the expertise of a leading helmet manufacturer in Europe. Equity investors for serial production tooling and homologation welcomed.
Redesigning motorcycling safety and comfort for urban, adventure, touring, enduro, sports riding!
DUALFLEX is a real full face safety helmet and offers two chin guards instead of one which are jointed by a firm hinge. You can open and close the DUALFLEX safety helmet by micro-movements.
We have an attractive list of interested customers. Considering only two of them - an accessory trader and a motorcycle brand - want to order 5000 pieces with their own customized graphics for summer 2014 with a 20% increase each for two subsequent years. Let alone the potential of several more interested customers!

The recommended consumer price will be in the USD 450.00-650.00 premium range (Schuberth, BMW, Arai, Shoei) emphasizing the innovative safety package and the low weight of 1500 grammes for a complex and sophisticated helmet utilizing modern fibre compound materials, sun visor and blue tooth. This corresponds to a wholesale price of USD 250.00-350.00.
The lean marketing and distribution structure will improve profits.
30 ready defined and designed modules need tooling. Including the testing approval according to ECE 22-05 standards this will take approx. 12 months from funding.
New revolutionary design and functionality may be conquering the state of the art tag.
Conventional full face integral motorcycle helmets are canibalizing each other, because they have not represented a major innovation since the BMW flip up design 20 years ago.
The Dualflex helmet offers a real alternative promissing better safety especially lower risk of spine and brain damage accompanied by lifestyle and modernity at a better comfort mode.
Sustainable success is guaranteed by registered patents in all major markets.
Nothing prevails over personal safety in the subconscious mind of a motorcycle rider.
Besides the fear of death, losing an extremity, a broken neck or driving in a wheelchair bikers worry about brain damage and mental disability after unconsciousness.
Once established as "no. 1 first aid motorcycle helmet" in the biker ´s perception sales will multiply in the segments who spend on their own health.
You can definitely contribute to reduce your life risk buying protective gear and the best helmet while your driving ability and the driving conditions such as local wheather or road surfaces change every moment.
So if a rider has a chance to do more to keep himself safe we suppose that he will do it in 9 out of 10 cases.
The funding is needed for the final step to enter serial industrial production, to pass ECE 22-05 testing and to start distribution.
Our funds went into the development process as far as the ready developed industrial prototype. Another portion is tied with the patent rights in the major global markets and commitments regarding production capacity.
We envisage only one round of financing. Later expansion of production, marketing, distribution agenda, etc. shall be financed by cash flow.
Opportunity for the investor
We offer up to 50% share of the company. Management participation will be subject to affinity and/or synergy of the investor to the project. The desired investment instalment schedule will be 50% at once and 50% within 4 months upon the contract.
Please contact us for more information!
Looking for similar investment opportunities