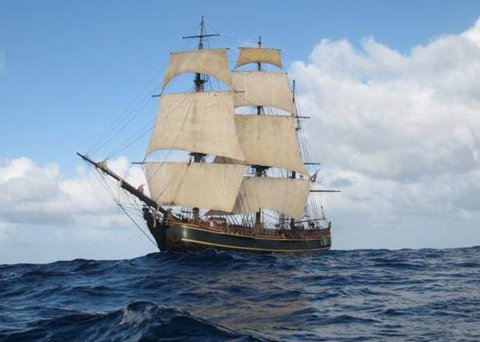 The project is about acquiring the replica ship used in the movies "Mutiny on the Bounty" and "Pirates of the Caribbean", and bringing it back to Tahiti.
This is a unique historical and international project. Who does not know the (true) story of the Mutiny on the Bounty (25 April 1789), the famous film starring by Marlon Brando (1962), the myth of the Tahitian women, etc. etc.
Currently, the replica, which was used for the film 1962 "Mutiny on the Bounty" with Marlon Brando, as well as for the film "Pirates of Caribbean" starring Johnny Depp, is for sale. Sale Price: $5 million.
The goal now is, to bring this magnificent ship back to Tahiti. We are already doing successful business in the tourism industry here in Tahiti, and now we are looking around the world for investors for this project! The ship would be available from 2013. Our idea is to plan a world tour to Europe, Asia, Australia and New Zealand, and then in September with the Beach Soccer World Cup in Tahiti to bring the ship to Tahiti for the first international Bounty Festival.
We have already been represented in the local media and hope to find a great support from the people of Tahiti.
If you have further questions we are very happy to help.
- Already established international popularity of the Bounty ship and its original link to Tahiti
- Different industry branches are touched by this project: Tourism, Film making, Replica Sailing, Cruise, maybe Casino on the Ship, History, and Festival.
- Scaleability of the project: Many more products and services could be associated with the brand (with the brand Bounty Tahiti Trademark: souvenir-shop, Hotel Bounty, Cruise line Bounty, Bounty Beer, etc.
The ship will be used as:
- Touristic attraction (ship visits)
- Hospitality facility (hotel, restaurant, bar)
- Events place (Honeymoon, Marriage, and other special events).
- Venue of the International Bounty Festival in Tahiti

Invested is needed only for aquisition (buying) the replica.
Opportunity for the investor
We are looking for several different investors who can be active as well as passive. To request the investment sheet, please contact us directly.
Looking for similar investment opportunities