Country: Netherlands
Industry: Agriculture
Stage: Start-up
Investment size: $300,000 / min. $50,000
Type of investment: Debt, Equity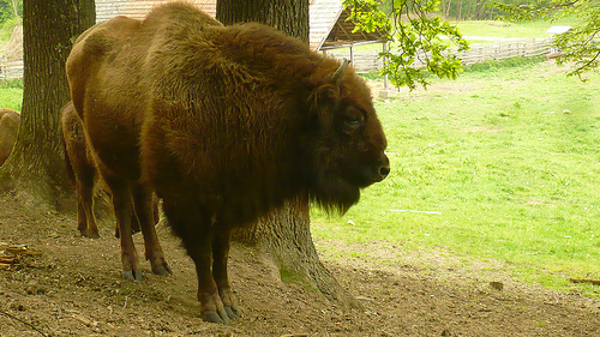 Help us bring the Aurochs back to Europe! Image courtesy: Cinty Ionescu, 2009, Flickr CC.
Aurochs backbreeding project with a clear ROI and revenue model. Investment proposal and financial sheet are available upon request.
Be part of an epic project, bringing back the Aurochs to Europe.
This project provides the means for the resurrection of the extinct Aurochs, an exciting, legendary species that once roamed large parts of Eurasia.
The Aurochs project will provide animals for reintroduction, ecological restoration, rewilding and natural breeding in nature reserves. Animals will be sold as wilderness meat. Wilderness meat serves as a very good investment opportunity with attractive revenues.
The use of large herbivores in nature and grazing management has become a common practice in recent years. Nature areas and wilderness reserves will serve as the breeding ground for the cattle, which means that seemingly economically non-viable areas are unlocked to provide a healthy product.
Our keys to success:
- The success of wilderness meat that has been accomplished in the Netherlands will be extrapolated to the rest of Europe. Breeding herds have been started and will be started in The Netherlands, Germany, Spain, Poland, Czech Republic, Portugal, Romania and Ukraine
- The True Nature Foundation has knowledge and expertise about distribution channels of biological meat within the countries of operation.
- Triue Nature Foundation coordinates and partners with protected area managers, field-based NGOs, universities (local and international), laboratories and farmers who will play an important role in developing and managing Aurochs herds in a sustainable manner.
- True Nature Foundation has partnered and will partner with relevant packagers and distributors in multiple European countries
Economic benefits of the project include:
(a) local development through job creation;
(b) increase the capacity of communities to address the root causes of socio-economic problems through sustainable natural resource management
(c) strengthening social cohesion and fostering the emergence of community-based cultural and economic initiatives.
Working together with nature for sustainable production, while giving back to the land and its communities.
- High market demand
- Niche in the beef cattle market
- Low cost - medium to high yield
- Good combination of economy and ecology
- Media eyecatcher
- Assets are formed by livestock
Interested parties can obtain our investment proposal and financial projection
Sustainable business model.
- Purchase of live cattle and semen
- Keeping the animals
- Embryo production and transplantation (where applicable)
- Logistics surrounding meat production: slaughter, packaging, distribution, marketing
Opportunity for the investor
Invest in a sound business with a huge growth potential and create a better world for us and our children.
Looking for similar investment opportunities