Country: Bangladesh
Industry: Education, Training
Stage: Start-up
Investment size: $50,000 / min. $10,000
ROI: 350% in 3 years
Type of investment: Debt, Equity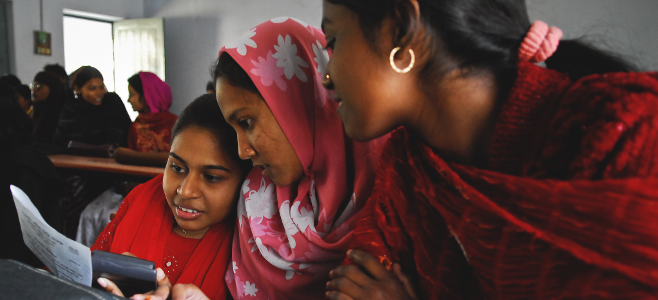 We are starting up the first institute in Bangladesh to provide major foreign education qualification with excellent curriculum and at very low cost. Image Courtesy: Asian Development Bank, 2007, Flickr CC.
We are starting up the first institute in Bangladesh to provide major foreign education qualification with excellent curriculum and at very low cost.
Until today, students in Bangladesh are suffering in getting access to domestic qualification that has worldwide recognition. There are few institutes which provide few qualifications but they charge very high fees, however apply ineffective teaching methods.
Our institute will be the first Educational Organisation in Bangladesh for providing excellent tuition and guidance to students for obtaining international qualifications which are recognized globally. Starting from the Primarily Level (O-Level) up to PhD, we will provide our students the most recognized and advanced qualifications.
All this we will provide at very low tuition fee. Along with daily, by using the latest technological advancement and computer aided digital teaching method, we will be able to cut teaching costs and to provide online access to all the study materials, lecture videos and learning kits.
For a detailed discussion please contact us through Merar.
We are first institute in Bangladesh to provide foreign qualifications at very low fees with quality teaching and unique teaching method. Currently there are not even a single such kind of institute with all these services. There are few institute that provide tuition for foreign qualification but their teaching quality is very low and charges very high price that most students cant afford.
On the other hand, our mentoring technique with the use of IT and computerized digital method for learning will boost students exam performance and ease there way of learning. We will develop our own international standard notes for students that shall take their understanding at advanced level.
We will provide tuition starting from Primary Level (O-Level) to PhD (Doctorate Level) from world wide recognized education boards.
It will be an amazing news for local students that our institute will provide all their dream qualifications at such a lower cost and hassle free way.
We will require a total of $50000 investment for our project. This will be termed as equity not loan. That means, our investors will be taking their part from the annual profit. At minimum, each investor can invest $10000. For every $10000 we will share 10% of annual profit.
Opportunity for the investor
Here is how we will share our profit with Investors:
For every $10000 we will give 10% of profit.
We will share maximum 50% of our profit with our investors. Thus at maximum we will require an investment of $50000 against 50% of profit.
We will share our profit annually starting from the 1st year. Investors will be paid via bank transfer at their local bank account. We will send monthly performance report to each investor. Investors will also get the opportunity to buy share of our upcoming projects.
For details: Investors can contact us any time through Merar.
Looking for similar investment opportunities