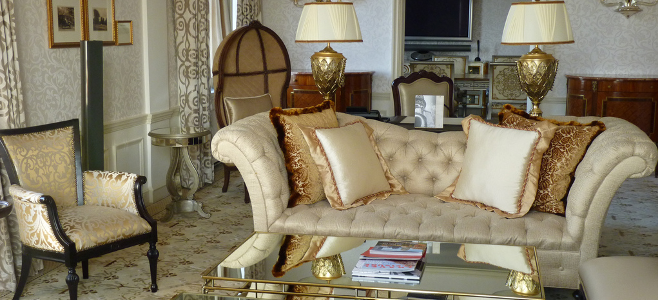 The design business enjoys strong demand as people continue to buy or move into new homes and remodel old ones. Image courtesy: Sharilyn Neidhardt, 2010, Flickr CC.
I am looking to start my interior decoration business in India. We will decorate commercial & residential spaces, and build up residential buildings.
This is a business plan for interior designers planning on providing services to the residential and the commercial sectors & building small construction works.
I have working experience in construction and interior designing. I have worked with prestigious construction groups like Jaypee Groups, Simplex Infrastructures Ltd. & DLF, the giant in Real Estate Business in India.
The design business enjoys strong demand as people continue to buy or move into new homes and remodel old ones. According to Home magazine, 30 per-cent of Indian & foreign people plan to redecorate or remodelled in the next five years, compared with 30 per-cent in the previous five years.
The interior design business is a go–out–of–your–house kind of home business. While doing the business aspects inside the home, most of the sales will be done at the client's home or office as we evaluate the space, match colour swatches to existing furniture and measure windows for draperies, etc.
The growth of this sector and the fact the city that we are going to setup interior designing firm.
Business Strategy
The Indian Society of Interior Designers defines an interior designer as someone "professionally trained to create a functional and quality interior environment. Qualified through education, experience and examination, a professional designer can identify research and creatively resolve issues and lead to a healthy, safe and comfortable physical environment."
Based on market stats, designers held about more than 1000000 contracts in 2010. Four out of 100 were self–employed. With this small percentage being self–employed, we are confident our ability to hire qualified staff will be easy in our market.
Designers work in a number of different industries, depending on their design specialty. Most industrial designers, for example, work for engineering or architectural consulting firms or for large corporations.
Services:
The design business is multi–faceted. We will provide work as product–driven designers and as a design consultancy.
The product–driven designer is a hands–on designer who combines the task of conceptualizing the look of the given space with marketing a wide variety of products. This is the common track of start–up designers. The designer often markets various products and even offers free design advice if the client buys all of the products from him or her. Buyers of their products are often allotted a certain number of hours of free design advice; if more time is needed, per hour fee is charged. A product–driven designer also charges a per hour rate to customers who seek their advice but buys products from another company. A hefty percentage of the designer's income is generated from product sales.
Market Analysis:
There are two types of market for interior design: residential and commercial. Residential interior design focuses on the planning and/or specifying of interior materials and products used in private residences. In terms of scope and contract amount, residential jobs are often smaller, but offer a higher profit margin particularly if we are marketing the products to be used in designing the rooms.
Business Model:
We will develop strategic alliances with local builders, realtors and home improvement firms. This will allow us to have a several lines of revenue into our company.
Right at this moment in the market, we have a few competitors. We believe that we will win more profitable contracts than our competitors due to their insufficient offering and training.
There is a boom in the Real Estate Business in India, giving us the opportunity to get work contracts in Interior Designing & Civil Construction Works.
I will approach Builders, Real Estate Agents, City Developers, Construction Companies, Architects to get contracts in these fields.
In the interior designing business we can earn 20% to 50% depending on the type of work and clients.
This is start-up, however I am having 10 years experience in Construction Companies.
Fund is required for:
• Setting up an office (infrastructure)
• Setting up the firm
• Working capital
At the current start-up stage I will need approximately 50 L.
After executing the work within 6 months more crores will be required to enable the company expand in the market.
Looking for similar investment opportunities