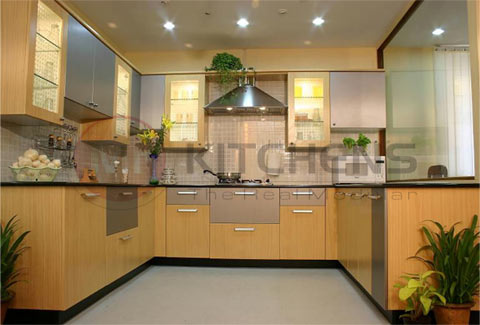 Mr. KITCHENS is engaged in the designing, supply and installation of modular kitchens, wardrobes, crockery units, TV units, Show case and kitchen appliances & accessories. Mr. KITCHENS is planning to manufacture almost 75% of the components that go into making a modular kitchen with required investment.
Modular Kitchen in India has created a revolution for all the homemakers. Kitchen is that special place in every home meant to explore culinary passions and especially in India, everything related to Food is revered. As Home Décor and Home Interiors is gaining importance, the new concepts in Kitchen Decor making waves. One such modern concept of Modular Kitchen is gaining immense popularity in India.
Modular Kitchens are based on functional practicality and the onset of Modular Kitchen in the furniture market of India have spelt a consciousness that even kitchens can have a style statement and at the same time be comfortable and elegant.
According to Industry experts, the modular kitchens segment stands at around `1500Cr, with Indian readymade kitchens currently sold at the rate of 10,000 units per month in the country. The increasing number of nuclear families, rising disposable incomes, affordability, and easy budget, will drive awareness levels and demand for modular kitchen, which is already growing at the rate of 40% per annum.
Modular kitchen in India is expected to grow 10 times in the next three to four years. Modular kitchen market in India is still at a nascent stage but has tremendous growth potential. Market has been witnessing a growth rate of 50% YoY.
The company is planning to purchase the wood working machineries with the required investment to produce the kitchen cabinets in India to reduce the operational cost.
Investors can receive more information if they contact us on Merar.
The Coimbatore modular kitchen market has lot of unorganized competitors like carpenters, non branded low quality producers, etc. These producers are making the kitchen cabinets in particle board, Medium density fibre and pre laminated boards at low cost. These kitchens are not strengthened and will be affected by water seepage in two years.
The branded quality producers of Italian ( Veneta Cuisine ) and German (Hacker) made madular kitchens also available in Coimbatore. But, only upper class people can afford the cost of these kinds of imported kitchens. These kitchens are available from Rs.5, 00,000 to Rs.8, 00,000.
Mr. KITCHENS incorporates the latest trends in modular kitchens keeping the Indian cooking habits in mind. Mr. Kitchens modular kitchen systems specially developed for the Indian cooking environment.
Mr. KITCHENS believes in providing the customers value for their money and have positioned the kitchens at an affordable price with a focus on the middle income segment. It believes that there is an untapped market in the middle income segment which is both brand conscious and aspirational in nature. The company is targeting one of the fastest growing segments, having an increasing level of disposable income.
Mr. KITCHENS procures its raw material directly from reputed manufacturers, importers and suppliers which helps the company to establish an efficient supply chain at competitive prices and ensures timely delivery. The management of the company places significant emphasis on the sourcing and logistics of raw material. The company is able to source key raw materials close to the factories resulting in reduction of transportation costs.
The company is seeking for an investment of Rs.67,50,000 ( USD 150,000 ) ( Sixty seven Lakhs fifty thousand only) to achieve its goal of budget class modular kitchen supplier in the market place.
With this modest initial investment, the company projects significant sales and profit levels by the completion of its six month of operation.
This business plan was developed to introduce the company to prospective investors in order to obtain financing to facilitate the growth of this company. The starts up expenses are already done by the promoters of the company. The Purpose of this proposal is to secure Rs.67,50,000 ( Rupees Sixty seven lakhs fifty thousand only) as an investment for the purchase of wood working machineries, show room expenses and advertisement of the product. The funding will be utilized as follows:
Factory Set up ( 10000 Sq ft ) - 10,00,000
Wood working Machineries
Automatic Edge banding machine - 11,00,242
Panel Saw Machine - 3,35,863
Post forming machine - 4,05,352
Hydraulic Hot Press machine - 12,33,750
Dust collector - 43,575
Showroom Set up ( 2500 sq ft ) - 5,00,000
Product display - 10,00,000
Advertisement - 5,00,000
Working Capital Reserve - 6,31,218
Total - 67,50,000 ( USD 150,000 )
Looking for similar investment opportunities