Country: India
Industry: Energy, Natural Resources, Mining
Stage: Expansion/Growth
Years in operations: 9, Employees: 10
Investment size: $10,000 / min. $10,000
Type of investment: Debt, Equity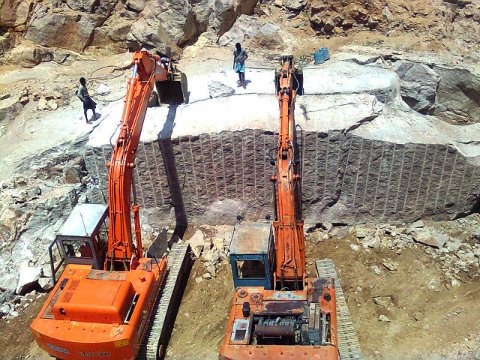 Funding is needed to improve the production rate and provide for working capital. We are looking for a debt or royalty-based investment.
The Business proposal is about extracting Natural Color Granite stone, more precisely Red Multi Color and English Teak Granite. A work permit by the Government and mining orders are already available.
Products:
- Red Multi Color Granite
- English Teak Granite
Business Model:
We will be extracting Raw Blocks from the Granite quarry and selling them.
Procedure:
1. Procuring contract labour for mining
2. Leasing equipment and purchasing materials
- Machinery for mining and loading the raw blocks to tippers
- Compressors for stone drilling
- Tipper for dumping the waste on production
- Other miscellenous materials like rods for dilling, oils and chemicals.
Markets:
There is wide market scope for the extracted Raw Blocks of dimensions 300 x 250 x 250 cm3.
- International market trading through logistics
- Domestic market with around 10000 processing units of raw blocks in India
- MNC organisations and mega constructions
Costs and Revenues:

Extraction Cost for one cubic meter (1m3 = 1m x 1m x 1m) is 8000-9000 INR (approx. 50 USD) including costs of all extraction resources (Labour, Machinery, Chemicals etc.).
Government taxes, way bills and transportation expenses have to also to be added to the costs based on Local Tax Auditions (7000-8000 INR in India depending on the scale of delivery).
The cost of one cubic meter varies between 25000 INR and 30000 INR (545 USD) on the international market and is <25000 INR on the domestic market.
The average monthly production is 100 m3.
The monthly revenue will be approx. 360000 INR (6500 USD).
Projections:
- Monuments Manufacturing
- Spiritual Guru Temples (e.g. Sri Puttaparti Sai Baba Temple (India) is floored with this Material)
Goals and Milestones:
The production tenure is of very long term. The production line will continue for at least two decades from now.
The production rate has to increase by 14% till 2014.
We plan to expand the mining area and start a processing unit for finished granite product.
Investment:
We are flexible in terms of the type of the investment. The investor can choose among different options - Debt /Equity/Royalty.
This is the only granite quarry in the zone which is extracting these sorts of granite.
Permits and orders are in place, so returns are guaranteed.
Opportunity for the investor
Funds:
Capital of INR 500000 (9500 USD) is required.
The investor can join hands by choosing from equity, royalty or debt based model.
Returns:
Equity model: 50% from the net income
Royalty model: The production line has to be maintained by the Investor, a minimum royalty for 50 m3 / month has to be paid; and for 1 m3 the leaseholder should pay 3000 INR.
Debt: The Capital will be repaid at an interest rate of 2% /month within a period of one year.
Looking for similar investment opportunities