Country: India
Stage: Start-up
Investment size: $57,000 / min. $22,727
ROI: 100% in 5 years
Type of investment: Debt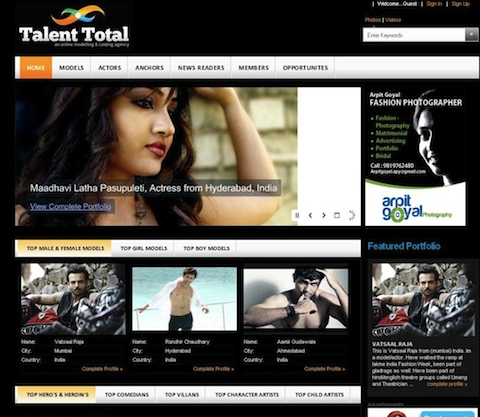 We are looking for investors for our website which introduces new or upcoming stars, anchors and models for film and TV industry.
We have started a online modelling and casting agency and talent promoting portal. We need investors to expand/take our business to customers (talents). We need hire business development officers, video editors for capturing film making videos, posting film making articles and etc. Our source of income would be showing ads on website, conducting auditions, ad film making and etc. Have to advertisement and gain good rank/traffic for website so that we can gain more revenue on showing ads. We need to make our website as single source for film aspirants.
Services we offer:
1. Introducing new models and actors and film/TV technicians.
2. Portfolio Shoots for models and actors.
3. Conducting Talent Hunt Drives for production houses.
4. Making Low budget Ad Films for small businesses. In feature more on this.
5. VFX services- feature plan
6. Own Video Ad Service for Videos hosted on our website.
7. Promoting Short-films and Films.

Revenue Model:
1. Revenue on showing ads on website.
2. Shared Revenue on ad service on videos.
3. Revenue on offered services like Portfolio Shoots, Films promotions and etc.
4. Revenue on making ad films and short-films.
5. Revenue on conducting auditions.
We can do more in feature. If you like to know more or interested to invest in our business please reach out to me.
We require investment to establish an office, hire a graphic designer, procure infrastructure, advertise, hire business development officer, Marketing and run business.
Opportunity for the investor
The Investor will be the main owner of the company and I will be the second partner, responsible for all business operations. I will take share in income and will take all responsibilities in managing website and performing business operations.
Looking for similar investment opportunities