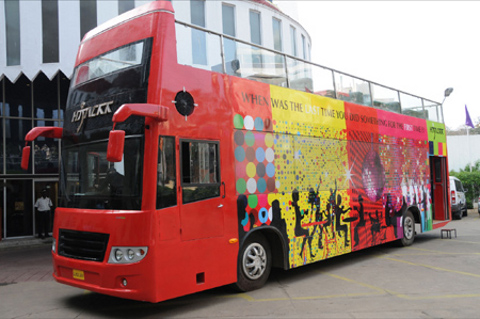 Concept vehicle photo
The project is based on the Meals on Wheels concept (Fine Dining/Restaurant on Wheels). It is actually setting up a star rated restaurant with lower deck fully air conditioned and upper deck open roof top, in a bus, with all the luxury. A new trend of dining for the Indians.
The advantage of using the MOW service is the sheer convenience of accessing all the establishments through a single telephone number. This is now being extended through the internet for online ordering - a need of the hour that MOW has promptly responded to. You will also now receive current updates regarding new establishments, changes in prices and special offers immediately through the website, ensuring that you are aware of the changes as and when they happen. You, of course, continue to have the option of calling MOW, as being done.
​There is huge demand for the quality food and beverages for economical prices. If we start this business we can earn maximum benefits with a small investment. This project gives instant profits of 30 to 40%. I have done all the research and planned all the things.
​There is one more advantage of this service is that our vehicles could be rented for short or long distance tours, camps or get-togethers to selected tourist spots.
​Setting up one Bus will cost us around Indian Rupees 1 crore / 2 lakh US Dollars (depends on the conditions and luxuries and body designs), and I think, we can start our services in Bangalore city with 2 to 5 buses initially and then expand.
​I have already put across this project to the Govt. of Karnataka and all the concerned depts. say Tourism, Transport, Food&Beverages, Entertainment and Media, and have promised me with their co-operation and sanctions. As this is a great media supporting the tourism development, Govt. has agreed to even support us with loans and subsidy, once after we start our business initially.
​Bringing a first-of-its kind dining and entertainment concept to India. A double-decker mobile restaurant in the metropolis. The multi-cuisine restaurant will have an open to sky upper deck and a fully air-conditioned lower deck. It can have a seating capacity of around 20 to 40.
​The fully air conditioned lower Deck is designed in the most luxurious way and provides great ambiance created by variation of lights and soft music.
​The Upper Deck will give a fun and sporting experience – first of its kind of dining in the open air, while on the move. Live music, great food on the go make the ride not only enjoyable but also a memorable one.
​A new concept of food, fun and entertainment for the people. We will take great care to ensure that the services offered to our guests should be world class and food to be delicious and hygienic so that they go back with a unique experience.
​​We will be serving 7 course fixed meal including mocktails, soups, salads, starters, main courses, and desserts to complete a full meal. The food could be charged in star ratings only. The menu will change every fifteen days.
​​Don't take any worries on setting up and running the business here, because I have all set to start on with a good crew.
​We have got very less time to think and start this concept. If we wanna do this business seriously, then we have to initiate within some weeks itself, or there are some chances for some others to overtake us and hence lessen the chance of uniqueness and profitability.
​So, I think now you will think seriously on this matter and get back to me, if you can invest and go on, at the earliest itself.
Looking for similar investment opportunities