Country: India
Industry: Logistics, Distribution
Stage: Seed
Investment size: $900,000 / min. $500,000
ROI: 300% in 3 years
Type of investment: Equity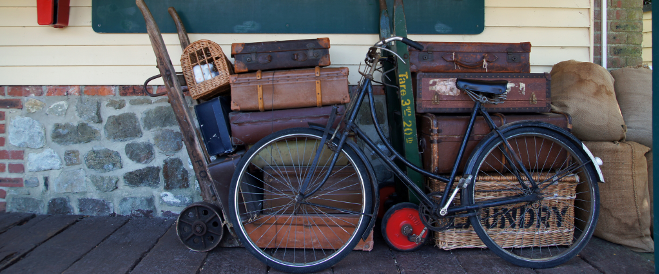 This unique service allow travellers travel hands-free, without carrying the heavy load, and worrying about security checks hassles at airports, railway stations etc. Image Courtesy: AvidlyAbide, 2012, Flickr CC.
Personal Baggage Logistics allows travelers to hand-over their baggage to us to get it delivered to their destination city thereby enabling them travel hands-free.
This is a niche concept not found yet in India:
• Travellers can hand-over their personal baggage to us at their residence/office/hotel through our representative or personally visiting our office.
• The have to register the city they want the baggage to be delivered at including date & time.
• Travellers can now to travel hands-free, without carrying the heavy load, and worrying about security checks hassles at airports, railway stations etc.
• They get their baggage at the destination mentioned at the right time.
To start with, this services will be offered in/to major metro cities that includes Delhi, Mumbai, Kolkatta, Chennai,Bangalore, Hyderabad. Other cities and towns can be introduced subsequently.
As yet, there are no competitors found in this segment in India.
• We will release customers from the pain & hassle of carrying their baggage. They will have their baggage transported on their behalf with just nominal costs.
• We will get the travellers used to baggage-free travel.
• There's assured business and margin per baggage.
The travel by Trains/Buses will result in longer delivery period but smaller cost per baggage. The travel by plane will get shorter delivery period but higher cost per baggage.
The business is by large self explanatory and its advantages are easy to demonstrate, as each of us will travel and be given the opportunity yo understand the nature of the business model and its overall excellence.
I have worked for a Logistics Business involved in Freight Forwarding, Transportation, and Courier Service for over 12 years, and this business model got evolved over the time based on my experience and observations.
• Marketing, Advertisement, Road-shows, Marketing Agencies etc.
• Setting up small offices with 4 employees in each Metro City; respective rent, salaries, phones, computer, tables, chairs, slotted angles for baggage for its brief stay, etc.
• At least 2 goods vehicles on rental basis in each of the Metro Cities to run every day. The vehicles will be used for Inbound, Outbound & Distribution of Baggage.
• Other incidental charges etc.

Opportunity for the investor
• Huge returns transactions-wise. Fast ROI.
• Great IP Value after just few years of our operations. Alternatively, IPO can be aimed at (after 3 years of operations).
Looking for similar investment opportunities