Country: India
Industry: Retail Trade
Stage: Expansion/Growth
Years in operations: 13, Employees: 7
Investment size: $100,000 / min. $20,000
ROI: 30% in 4 years
Type of investment: Debt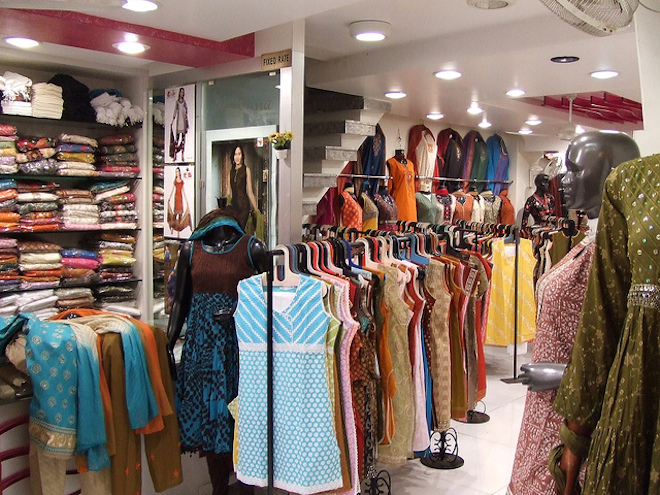 Indian retail industry has seen phenomenal growth in the last 5 years. Customers display growing purchasing power. Organized retailing is now contributing significantly to the growth of the Indian retail sector - a trend, visible also in Rajasthan. Image courtesy of Shankar S., 2007
We are having a 9000 square feet shopping mall at prime location in the Bhopalgarh town, Jodhpur (Rajasthan). The building is natural, aesthetic and glass covered.
In our shopping mall, we mainly deal in cloths and readymade garments along with other daily needed items. We purchase cloths and readymade garments from reputed dealers and manufactures all around the country. In cloth and readymade garment there is a good profit margin, presently we are having gross margin of average 150 %. Our retail business is profitable and never accounted a loss.
Now we are thinking for expansion of our working area, we want to wider our extent of business in cloth and readymade garments along with other daily need items and home appliance items. In cloth and readymade garments, there is large saving in purchasing cost, if cash purchasing is opted. Currently we have both cash & credit strategy of purchasing. We are wishing to opt cash purchasing strategy. And for these purpose we need working capital funds.
Business Area
Bhopalgarh is a big town and a Tehsil headquarter in Rajasthan. There are 500 other small shops in Bhopalgarh. There is no big city within 30 kms range. Hence, Bhopalgarh is the only nearest shopping hub for people of Bhopalgarh and all other nearby areas. Within range of 30 kms, there are 300 villages with a total population of approx. 10 lacs. Our area is agriculturally developed. The middle class segment is increasing steadily in area and all population is moving towards providing higher education to their children and around 50% of the families have one family member as a government servant. All this results in increasing buying capacity of the local residents. The population's requirements towards variety and choice are growing. Therefore, we would like to offer greater variety of products in our shopping mall.
In our shopping mall we deal mainly with garments of all types, as well as hand loom, daily need and home appliance items. We purchase all types of garments in bulk, mix and assorted from almost all big manufactures and show rooms of India at 10 to 25 % of M.R.P. Our gross margin is 50 % to 300% because we sell directly to consumers.
In near future, we want to start our branch office in Jodhpur for sale and purchase of goods, as sale outlet mode and wholesale mode for fast rotation and bulk sale. We are also planning for providing online shopping facility to customers.
And for this purpose we have seen Jodhpur Paota office to take on rent for branch purpose.
Before taking branch office on rent, we are looking for an investor who can invest in our business or willing to come in partnership with us by making investment.
The investor can have a look at the shopping mall any time via a web camera.
The investor can also visit us at our shopping mall. For our shopping mall bus will take 2 hours from Jodhpur and train will take 4 hours from Jaipur to Gotan, after this Gotan village to Bhopalgarh bus will take 40 minutes. Gotan is situated between Jaipur and Jodhpur.
Investment is required for working capital requirement and expansion of the business.
Opportunity for the investor
We are looking for an investor to invest in our business an amount ranged between 20 lacs to 100 lacs for working capital requirement. We will use the best accounting software to deal with inventory. We have in our team one charted accountant, and sectored accounting specialist.
Proposed return to investor on investment will be higher of the following:
15% interest guarantee on amount invested, or 5% benefit on total purchase.
Investment security:
• The account will be audited
• Goods will be controlled by the investor
• In case of any doubt the investor can use a cheque to withdraw their investment in 25 months. We want our investor to feel very comfortable to invest and withdraw their investment
• Total purchase and expenses payment will be paid by the investor and total sales will be deposited in investor account daily
• If the investor wants to get an executive position, then he can appoint his person as a manger or cashier salary will be paid 50% by the investor and 50% by self super shops
• Total purchase by invoice
The investor can have a look at the shopping mall any time via a web camera.
Kindly take the above business into your consideration and for any other query please revert.
Looking forward to hearing from you!
Looking for similar investment opportunities