Country: India
Industry: Technologies
Stage: Initial growth (first revenues)
Employees: 7
Investment size: $170,000 / min. $170,000
ROI: 25% in 2 years
Type of investment: Debt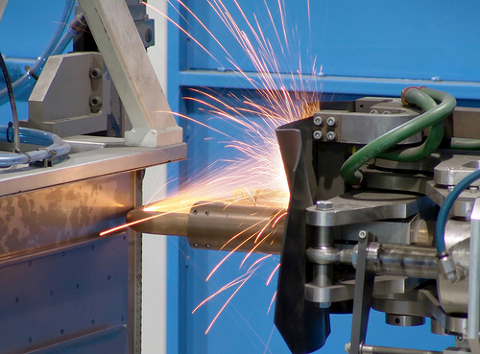 Our company has over 3 years of hands on experience in the field of Robotics. We are looking for investment of 1 Crore Rs. The investor will get ROI of 18% per annum.
Indian Robotics Company requires funding for:
1. Product Marketing
2. Infrastructure Development
3. Human Resource Recruitment
4. Product Development
About Us:
Our company has over 3 years of hands on experience in the field of Robotics. Through its extensive research in all the aspects of Robotics viz. Embedded Systems, Mechanical Design and Software Design our companyhas formed an in-depth base of expertise that gives them the ability to meet the most intricate requirements of Robot manufacturing. This solid engineering strength enables Indus Robotics to provide complete Robotics solution from conceptualization, design, manufacturing, implementation and support.
Vision: To make INDIA self-sufficient in robotics and automation.
Mission:
• To develop world class Automation Control Systems
• To develop superior quality CNC machines at leaner price
• To design and develop world class Robotic Arm
Core Values:
• Innovation
• Integration
• Leadership
Team:
Our company was founded by young technocrats passionate about design-ing high quality products in robotics. Indus Robotics core strength lies in its team that is equipped with multiple skills such as, mechanical design, con-trol systems, programming & algorithms.
We believe in the saying "If you are Happy, we are Happy ". We believe in "Live life to its fullest" so here in Indus robotics, we create enthusiastic & energetic environment for exciting and adventures journey of work.
What we do?
We manufacture products that serve three fundamental industrial needs:
• High efficiency
• Productivity
• Cost effectiveness.
Being primarily a research based company we envision to develop different product based on market survey.
We also identify opportunity to develop product as per customer's needs.
Facilities:
• High technology
• Research Unit
• Dedicated Tool Room
• Advanced quality control testing facility
• Engineering Software: CAD/Solid Modeling/Simulation & Analysis Tools
• IT Enabled Documentation Archival, Retrieval and Control System for all technical projects and Engineering Documentation
Capabilities:
1. CNC
Our CNCs come with digital stepper technology, are highly reliable with user-friendly operation.
Applications: Drilling, Routing, Engraving, Milling, Crafting
2. Industrial Robots
Indus Robotics offers Robots with carry-ing payload capacity ranging from 0.5 Kg to 30 Kg. Indus Robotics has State-of- the-Art System Engineering facilities to provide variety of System Solution on Turnkey Basis.
Applications: Pick & Place, Assembly
3. Automation Control Systems
We leverage our expertise in the field of embedded systems to provide custom solution to industries seeking automation. We develop application specific automation controls systems. In future we envision launching our own standard control systems competing with global companies such as SIEMENS & FANUC.
Robotic companies in India are mainly working as an Integrator where they buy Robots from the third party.
Currently, Robots are being imported into INDIA from International Market.
We are a research company. We aim to launch our own Industrial Robots in the market within one year.
We have the proven capability of designing and developing not only mechanical body of Robots but also the software and embedded control systems.
Therefore we will be offering high quality robots at a leaner price.
Market:
• Market potential of the Robotics Industry: $750 Million
• As automotive industry increases the Demand for robot production will increase
• On the other hand, Robotics doesn't solely depend on automotive industry but many other industries like plastic, rubber, logistics and food etc.
Project Costs in Rs.:
Land & Building: 225 Lakhs
Materials & Machinery: 80 Lakhs
Electrical Installation: 4 Lakhs
Furniture & Fixture: 25 Lakhs
Computers & Systems: 13 Lakhs
Hardware tools: 3 Lakhs
Total Cost: 350
Means of Finance in Rs.:
Own contribution: 50 Lakhs
Investor: 100 lakhs
Bank Finance: 200 Lakhs
Opportunity for the investor
Investment Amount: 1 Cr
Moratorium Period: 3 Month
Interest Payment: Quarterly
Principal Payment: 2 Years
Return on Investment offering to Investor: 18% per annum
Investment Plan:
Phase 1 (Oct 1 - Dec): 15 Lakhs
Phase 2 (Jan 1 – March 13): 35 Lakhs
Phase 3 (April 1 – June 14): 25 Lakhs
Phase 4 (Jul 1 – Sep 14): 25 Lakhs
Image Source: Flickr CC, Author: Ripley Engineering
Looking for similar investment opportunities