Country: India
Industry: Textile, Apparel, Accessories
Stage: Initial growth (first revenues)
Years in operations: 2011, Employees: 50
Investment size: $1,600,000 / min. $1,000,000
ROI: 30% in 5 years
Type of investment: Equity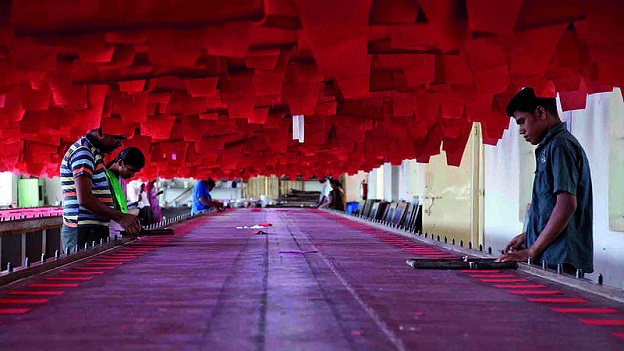 The company is planning to establish its production from 30k qty/month into 250k qty/month. This requires extended capital amount and company production plant expansion.
We are a company located at Indian Textile hub at Tirupur District.
Company overview:
The firm was established in February 2011 with 4 friends with small investment. Among the four friends two of them has 7 to 14 years of textile experience. This experience helps much into our business because two of them started working from the very bottom level to the management level in the textile industry.
Core Success:
Our experience in Knitting process, Dying process, Compacting process and Garments is deeply known as per current market status.
Since we know the man-power costing and product costing even <1$ variation we stop loosing money to RAW materials and Production process.
We know each process costing/quantity. We also know each raw material costing / kg or quantity.
We have many suppliers and sub-factories who support us and delivering fast. This is our main success in this industry.
We have many orders in our hand because of lack of capital fund and lack of fund to expand our production plant we can't able to make all the orders.
Therefore we are planning to move for funding from any bankers or individual or group of investing companies.
Our request before investing our company is "Trust us, we will make you successfull".
You can visit our company at anytime before you go for investment.
There is no competitor in this business in India, business is open for anyone. The key factor to success in this business is steady Man-Power and Capital funding.
We are different than others, because we know each and every process. A company is doing the process at 1$ we can reduce by 25% to 50% in process, because we have many suppliers contacts and contact from many top companies where we are doing business.
We enter into this business because FMCG goods are evergreen business in the World and we are seeing the business in India and other countries, its really doing good even with global Financial crisis.
Now Indian domestic market also grown like European and american market, Indians are spending money for buying cloths like Europeans and Americans.
Yes, many players in this market making money out of this business.
Our 2 of partners they born and live in this business for past 7 to 15years, they worked from garments production to Product designers.
They know what is going to be costing for a single T-Shirt without making any surplus costing.
We need the funding mostly for Capital amount, the issue we are facing here is ,we have invested a amount and we grown up and the present capital amount is not even enough to run 10K qty of T-Shirts. Due to this we are reducing our production speed and maintain our capital amount in one month period.
One more major issue is, when we shipped the product we may get the payment after 15days to 45days of time. We have to survive for 45 days without our present capital amount. this lags our production quantity and related big margin.
I can say even with line-up many oders we are running our company at 15% of its original capacity because of lack of capital money.
We may take finance in 3 rounds with each 1month gap, 1st step we should guaranteed to our clients says we have the fund to run the business upto 30k quantity / month.
Once they place the order we may get the credit of 7days from our suppliers, so when we start the process we need the money after 1 week from order placed by client.
The 2nd Stage of money we need once the process going to finish at 75%, then we have to place the order for next sets of qty.
The 3rd Stage of money we needs after 15days from the 1st order shipment.
Opportunity for the investor
We are looking both equity and hands-on investors & silent investor. Shares can be equally divide as per the amount of investment with 15% additional shares to us for running the company as a royalty by the investor.
The photograph is from Jessica Steiner.
Looking for similar investment opportunities