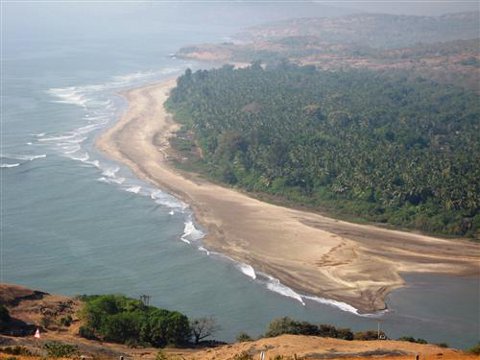 In regard to the rapid growth in Tourism sector in India we desire to set up a resort having all the modern facilities in an area of 2.9 acres in Anjarle, Kokan, India. Anjarle is one of the secluded beaches in Dapoli. The beach is clean, covered with white sand and surrounded by palms and trees. Located near an estuary of the river Jog, Anjarle beach is about two kms long and is perched in one of the most picturesque locations of Anjarle. Its beautiful white beaches and breathtaking sceneries have its own history, tradition, culture, and language. It's a paradise for the sun lover, the surfer and those who desire piece in its deepest meaning.
"SUJIVAN Beach Resort" would be the best resort in Anjarle. The resort will be located closer to the beach. It will consist of rooms, cottages, conference hall, medicine center, gym, restaurant and lounge bar. The employees will be well trained. We will provide quality service and products to all customers. The customers will be able to make the reservation through the travel agencies, by directly contacting the Resort Reservation or through the resort's website. The resort will be advertised to the world through TV, newspapers, internet and above all through our company, by contacting travel agents. We are assured that there will be very good demand for this resort.
The restaurant will serve international cuisine. There will be holiday packages. All the customers can buy the package when they make reservation or after they arrive to the Resort. In addition to providing information about the locations of the beach, we plan to collaborate with tour agencies and businesses throughout the area by offering packages and special rates. All the rooms will be designed in traditional style but including all modern facilities. We will be also providing snorkelling trips to nearest tourist places.
Our company is registered in Pune under the Companies Act, 1956. The company is into manufacturing products as well as providing services. The company is also involved in investing in long-term investments such as property development, which includes resorts and proceeds from sale of properties.
The estimated investment in this business would be Rs.54000000 which will be used for the premises, fixed assets, equipment and other expenses. Funding is needed for constructing resorts in the most exotic holiday spots in India. Around 5 crores Indian tourists and 2 lakh foreign tourists will be attracted. We expect 25000 tourists every year.
Due to our holiday package program to all the international and domestic travellers the revenue will be very high, so that the investor will be able to reap profit from the very first year. The profit sharing will be 60% to the investor and 40% to us. Our company is registered as per Indian law and we have the permission to receive foreign investments as well.
Tourism in India holds special position as it not only has potential to grow at a high rate, but also stimulates other economic sectors through its backward and forward linkages and cross-sectional synergies with sectors like agriculture, horticulture poultry handicrafts. It is third largest net earner of foreign exchange for the country. Given India's unique endowments of biodiversity, forests, rivers, mountains, historical places, temples churches, caves, museums, monuments and culture the industry holds immense strength for obtaining higher growth rate. We guarantee that with our resort facilities we will successfully serve these in the original form and make them accessible to domestic and international travelers.
Opportunity in this sector is very high and even the small players are reaping huge profits though they are not up to the mark. The quality of service provided is in most cases very low so we guarantee as per market study that by providing a very good quality of service, accommodation and other resort facilities we will reap a huge profit for the life time of the resort.

The investment of Rs.54000000 will be used for construction works, fixed assets, equipment and other expenses.
Opportunity for the investor
60:40 profit sharing to the investor.
Looking for similar investment opportunities