Country: Lesotho
Industry: Real Estate
Stage: Expansion/Growth
Years in operations: 10
Investment size: $500,000 / min. $450,000
ROI: 20% in 20 years
Type of investment: Debt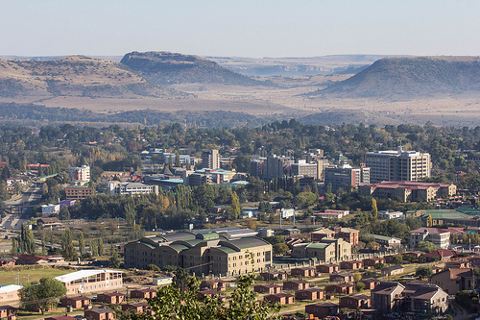 Building of 21 two bed-roomed residential structures, double storey complex at Ha Ntjabane, in the Berea district in Teyateyaneng (TY) Lesotho.
Business Plan
Executive Summary
At the recovery of the global economy, Lesotho like most developing countries is also awaking to the new development challenges taking advantage of emerging markets as a result of recovering global economy.
The need for appropriate platform for economic development is increasing in an alarming rate in the country. Most entrepreneurs want a place where they can establish their small to medium businesses, big companies are growing and they want a place where they can extend their services, the government also wants an appropriate place where it can encourage and assist some Basotho entrepreneurs in their different business establishments, however the problem still lies with appropriate residential accommodation especially for the working class.
This report is about a Mosotho entrepreneur who wants to provide residential accommodation for the working class in the government and in the society at large at Teyateyaneng (TY) in the Berea district in Lesotho, as a means to reduce a problem of too much commuting to and fro Maseru, the capital city due to lack of proper residence area in TY, Lesotho.
Business profile
Building of 21 two bed-roomed residential structures, double storey complex at Ha Ntjabane, in the Berea district in Teyateyaneng (TY) Lesotho. These are for rental to individuals who work in TY town and do not want to commute to and from Maseru on daily basis due to lack of proper accommodation in TY. A 1,350 square meters site is already available and a lease is also granted for the development of this site.
Projects objectives:
To build 21 two bed-roomed flats, a double storey structure for rental to individuals who are the working class and government officials for residential purposes.
Management
In the building of 21 two bed-roomed structures, double storey complex, the entrepreneur will also seek a professional expertise of an Architect from Maseru, the capital city of Lesotho and also a continuous contact with the financier.
After the project is completed, the entrepreneur will solely manage the running of the business and ensuring that the financier gets their dues on time.
The Market
Twenty one 2 bed-roomed structures, built in a one double storey complex project; TY does not have this kind of residences and this courses the working class to commute to and from Maseru daily in search of proper residential place, which is not very safe considering frequency in motor vehicle accidents between Maseru and TY , which are about 30km apart.
Market analysis
The rate of road accidents in commuting individuals is a discouragement to most people. This is an advantage to the entrepreneur (myself) to provide a suitable residence of their preferred standard and quality for them at their work town, TY.
Marketing Strategy
Target market is the working class which is constantly looking for comfortable homes for rental. These could be mostly government officials and individuals in the working class working in TY in the Berea district, in Lesotho.

Financial Projections
Building 21 two bed-roomed residences in a single double storey structure on a 1,350 meter squared site that already exists, acquiring the services of an Architect and a building contractor also including all other related costs: US$ 500,000 TOTAL.
Payback Strategy
The 500,000.00 USD will be paid back over a period of 20 years at an interest rate of 20% per annum. Paying back US$ 2,708 on monthly basis for 20 years.
Strength:
Residences are going to assist the government of Lesotho officials and some professional individuals in providing comfortable, high standard residence at the place closest to their work place, a steady business for the entrepreneur and a guaranteed return on investment for the investor.
Weakness:
These resedential flats will not be affordable and available to everybody; they will be available and affordable only to high income individuals.
Opportunities:
An opportunity for a long term investment in a growing market for both the entrepreneur (myself) and the financier. At the present moment, there are no high standard residences in TY hence so much commuting to and from Maseru on daily basis, which is not healthy and not economical.
Threats:
Should there be other global economic recession, most of businesses will have to close down as it happened in the previous global recession and that would mean our businesses would run out of clients to rent.
The future opportunity is to look for other sites available to develop in the near future in other districts as well until the whole country of Lesotho has proper residences of high class for those who can afford the rent.
The money is going to come from monthly collection of rent.
Yes, other market players are also making a lot of money, but these kind of residences are just too rare, they are not enough to meet the demand. The demand is much more than the existing supply.
I already own five residential houses and the demand is overwhelming, I have a list of individuals waiting for somebody to vacate the house so that they can move in. People in Lesotho, especially the working class are desperately in need of comfortable, high standard homes and the existing supply is just too small.
The funding is needed for building 21 two-bedroomed residences in a single double storey structure.
These residences will be rented for business purposes to make money at the end of it all.
I envisage only one round of financing of USD500,000. This would be just enough to finish the whole double storey structure of 21 two bed-roomed homes, build in exactly 6 months.
Opportunity for the investor
The overall loan amount is USD500,000
The expected payback period is 20 years
The interest rate is 20% per annum
I am looking for a silent investor
I would like an investor to pay USD500,000 once and the payback will be on monthly basis starting from the end of the 12th month after the investment, this would allow the project some 6 months to settle before the payback period starts. The pay back will be USD2,708 per month for 240 months, which is USD 649,999.99 and a return on investment of USD 150,000 in 20 years.
(cc) Image courtesy by OER Africa
Looking for similar investment opportunities