Country: Thailand
Industry: Real Estate
Stage: Expansion/Growth
Investment size: $11,700,000 / min. $9,100,000
Type of investment: Debt, Equity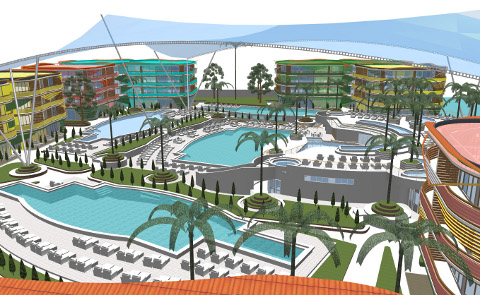 A hotel project is offered for sale. I am selling the project with the existing documentation for 5.5 million EUR. The land is sold together with a company.
The hotel complex will be located in Nai Harn on Phuket Island, Thailand. The complex consists out of 6 units sized from 1000 to 2000 m2, 6000 m2 in total, on a 17 560 m2 land. The land is on a prime sea view location next to the Nai Harn Lake. It is designed to have 420 rooms, 5 pools, 1 restaurant, spa facilities and sufficient parking space.
Our Hotel-Complex Development Project is situated next to the delightful beach front Samnak Song Nai Harn monastery, which dominates most of this quiet, tranquil beach and allows it to maintain an undeveloped, unspoiled ambience.
Within easy reach of Phuket Town and Karon, our hotel complex would be popular with both locals and expats alike, who will came there to relax and enjoy the mountain jungle vistas, sparkling fresh water lagoon, fine white sand beach and crystal clear waters.
Our location manages to maintain a non-touristic feel and is popular with joggers who take advantage of the stunning natural course encompassing the beach and lagoon. During the high season, the small bay to the north is awash with sailboats. It is all about relaxation and for many people a gentle swim in the shimmering and perfectly still crystal clear waters, especially during the high season months, is all the activity they require.
As the low season approaches, the beach becomes a popular destination for surfers and body-boarders especially at the southern end where conditions are enhanced by a permanent sand back. The northern end of the beach offers a safer environment for kids to enjoy the waves and boards can be purchased or rented through a number of outlets and beach vendors.
The Hotel Complex Development Project also includes shopping centre, restaurants, a spa, a sports complex and a conference hall. The property is expected to become the largest hotel complex constructed in Nai Harn.
The plot area is one of the picturesque corners of Nai Harn and location let to receive unique panoramic views through every window of buildings practically at any orientation of buildings.
There is a building area of 17.560 m2 for 6 hotel complex (A, B, C, D, E , F)
3x 2.000 m2
3x 1.000 m2
• 840 beds in 420 rooms/apartments (25-50m2)
• 5 pools: 1.535 m2
• Restaurant of 372 seats
• 84 parking places
Why invest in Thailand?
Exotic Thailand is Asia's top tourist destination and offers a world class tourist industry at affordable prices, making it a magnet for visitors, re-locators and property investors alike. In many key locations in Thailand, the local economy relies heavily on tourism and increased property investment in these locations is now good news for domestic economic growth and good capital returns.
Natural and Cultural Factors
• Once an exotic long haul destination, Thailand is now also a sophisticated tourist destination with a universal appeal.
• For thousands of people who have worked in Asia for many years, Thailand is a very attractive retirement destination, in which the living environment will feel familiar.
• Retirement visas are available for foreigners over 50 years of age.
• Thailand has good schools, an efficient health care system and it is seen as a friendly country in which to live or visit.
• Thailand offers beautiful mountains, dense forests and stunning beaches, a tropical climate and cities teeming with culture and colour which draw visitors back each year.
Economic Factors:
• The relatively undiscovered nature of Thailand means that property prices here remain far below those in the more established European markets, although they are growing quickly and strongly (around 10-15% a year).
• Thailand is the largest growth market in Asia. Some businesses choose Thailand as a regional base from which to keep their employees working all around Asia.
• Thailand has recently attracted significant foreign investment. It has become one of the Asian economic leaders and is one of the fastest-growing economies in the region. Thailand is one of the cheapest places to fly to in Asia.
• Property is much cheaper in Thailand than elsewhere and an increase in overseas interest in property purchase has helped to create an economic recovery in Thailand. No capital gains tax for private investors, and low ongoing taxes
• Rental potential is great, due to increased government spending luring growing numbers of tourists.
• Today foreigners are regarded by the government as a big investment opportunity in Thailand.
The Hotel can have up to 420 rooms, if they are the size of around 24 m2 or 360 rooms if 300 rooms are in size of 24 m2 and 60 rooms are in size of 49 m.
The season lasts all year (365 days). The high season is 150; the middle season - 25 and the low season - 190 days a year.
If we count that the occupancy is 50%:
200 days of single rooms occupied: 30 EUR x 300 rooms = 9.000 EUR x 200 days = 1.800.000,00 EUR
200 days of apartments occupied: 60 EUR x 60 rooms = 3.600 EUR x 200 days = 720.000,00 EUR
Total income per year = 2.520.000,00 EUR
200 days of double rooms occupied: 20 EUR x 2 persons x 300 rooms = 12.000 EUR x 200 days = 2.400.000 EUR
200 days of apartments occupied: 60 EUR x 60 rooms = 3.600 eur x 200 days = 720.000,00 EUR
Total income per year = 3.120.000,00 EUR
The price for a room is set very low at 30 EUR or 1143 baht, 20 EUR or 762 baht and 60 EUR for an apartment which is 2.106 baht ( on 3/23/2013 ratio is 1 euro = 38,02 TBH)
The price will depend on hotel occupancy. The price difference is even greater if we provide additional services such as drinks, food, massage, shop, etc.
You could build hotels, swimming pools and a restaurant with a kitchen for approximately 9.000.000,00 EUR.
After the architect calculations, the construction cost will be about 7 million EUR. Further need to take into account the equipment for the rooms, restaurants, swimming pool and sauna.
This is a very reasonable price, which shall be repaid in less than five years given a 50% occupation rate.
Opportunity for the investor
I am selling the project with the existing documentation for 5.5 million EUR. The land is sold together with a company.
Looking for similar investment opportunities