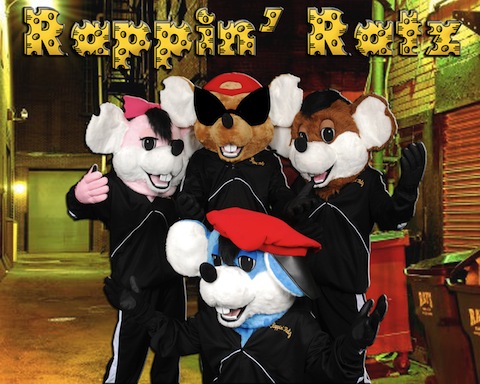 To help kids learn using Bubble gym rap music and dance. I want to make learning fun with rap and dance. Kids today follow rap music and if I can get to them soon before they become to cool I think in the back of their mind they will have a tease of some good Morales. Money are needed to promote the characters and help with produce.
Choreographed and Produced by South Lake Tahoe's Cooley Jaxson, (Former Solid Gold Dancer and one of the guys who taught Michael Jackson the Moonwalk) http://youtu.be/lIaLkKHxm9Q "Ratz in the House" is a live dance performance to help educate awareness for the kids about safety via fun dance-style hip-hop.
The characters will deliver real educational messages to show how much there is to gain from dancing, rapping and singing. Ronnie, Rita, Ruffles and Runt will teach children to read, write, spell and do math. Rappin Ratz is funded in part by Big George adventures and has cooperative agreement with Total Eklypse productions.
One thing I know Kids love characters and we have been doing show everywhere. Schools, events, and more.
Well I have been a Professional Dance for more then 30 years and I one of the guy who started Break dancing. I think kids will focus there learning if they are into something they enjoy. Like Rap Music.
I think everything can be repeated but the one thing I have is history and not many competitors can break dance and rap like me.

I want to make this project the new thing for all kids of all ages. With all the bad thing happening with cartoon I think this will spark a new FUN...
I was a power ranger on the live tour in the 90's and I saw how money can be made. We go on a tour of cities putting on shows at different venues and the sponsor (Exp Cheese It) put 50 golden tickets in three boxes. If a kid gets a golden ticket they will have VIP to the show. I think this idea is awesome if promote right.
Yes, But one thing i notice when it comes to Break Dancing I'm a head of the game.
To give kids a chance to have fun learning using the Rappin Ratz.
To build a product so kids can feel relax and not put on the spot to us drugs and joining gangs. I want kids to know you can still be cool with out things like that.
In 3 to 5 years have this production to be one of the biggest Children project ever.
I can be the next Jim Henson haha.

Looking for similar investment opportunities