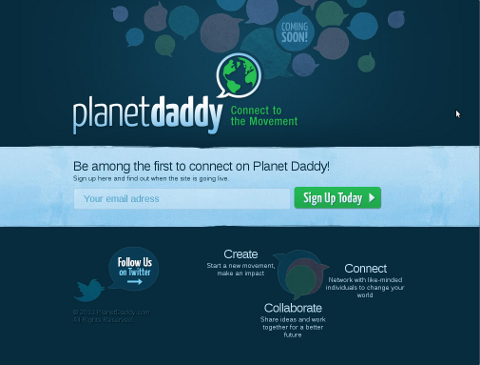 PlanetDaddy.com (PD) is a platform for connecting students to the green revolution and is looking for investors. It is a new social networking platform that empowers individuals to create, connect, and collaborate in movements that will change the world.
PD provides a gathering place for environmentally conscious, like-minded young people to enable a significant impact on stopping climate change by engaging them in learning about the green jobs and economies of the future.
The Problem
While concerns over climate change and environmental issues have increasingly gained traction among consumers, and particularly college-age students, much of the movement is fractured and marginalized due to the overwhelming abundance of clubs, organizations, and events around the issue. Social networks, which are now among the most popular places for people to virtually congregate, have also failed to unify or provide any real value to individuals interested in the green movement or other causes. As a result, a large gap exists in the market for a social network that allows users to make meaningful connections with other individuals interested in social issues, and in particular, environmentalism and climate change. PlanetDaddy.com is a new website that intends to change that.
The Solution
PlanetDaddy.com, LLC (also referred to as "the Company") is a start-up, web-based platform designed to inspire, equip, and connect individuals in the global green movement. The Company's social network will provide users with networking, education, green job information, and a plethora of additional resources. PlanetDaddy.com will ultimately become the framework for meaningful interactions in the green movement by offering users content, relationships, and inspiration regarding climate change and solutions. The Company's site will tap into the trend towards niche social networks by remaining exclusive and limited to college students upon launch to hone in on the actions and preferences of the generation at the core of the environmental movement. By providing a robust platform for meaningful engagement on one of the world's most pressing issues, PlanetDaddy.com will emerge as an indispensable tool for users worldwide that seek to accomplish systemic, positive environmental change. The Company is soliciting investor offers and intends to fully launch services in September 2011.
The Market
PlanetDaddy.com will enter the market at an ideal time characterized by the convergence of several key consumer and social trends. More than 87% of Americans are "seriously concerned about the environment." In addition, the Company's target market segment – college students – is also a large and burgeoning market. This segment is made up of more than 19.8 million people and, among this demographic, 84% report being "actively concerned about the climate crisis." These have fueled a significant rise in campus activism, and today, 95% of college campuses have at least one active student environmental/sustainability group.Along with growth in these segments, the number of Americans using the Internet has also continued to grow. Today, more Internet penetration in the U.S. is at an all time high, with 221 million people having access to the web. This figure is expected to reach 250.7 million by 2014.
Full business plan is available for download after registration. Interested investors can contract us on Merar.

Looking for similar investment opportunities