Country: Kenya
Industry: Education, Training
Stage: Expansion/Growth
Investment size: $1,400,000 / min. $900,000
Type of investment: Debt, Equity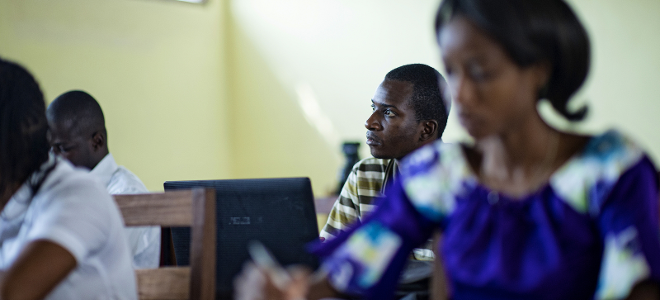 We are a research institution established to promote action research and work towards concentrating the scarce resources (human, material and financial) in selected relevant action research programs. Image courtesy of CIFOR, 2012, Flickr CC.
We are seeking equity and debt investment to setup an Agriculture and Technology University, backed up by a dairy farm on a 100 acre piece of land.
We are a research institution established to promote action research and work towards concentrating the scarce resources (human, material and financial) in selected relevant action research programs. The Centre emphasizes multi-disciplinary action research that impact on and influence socio-economic development. Areas of work include Education, Agriculture, Food Security, Water Resource Management, Health and Innovation among others.
The idea of establishing a University of Agriculture and Technology is influenced by the economic, social and cultural characteristics, as well as by the formal structures of the government and other features of the political system in the country. In general, Kenya remains a poor country by world standards; its growth constrained by international debt and by world prices for the commodities that it exports, which continue to deteriorate against the costs of production and price of imports. The country faces the need of creating highly skilled workforce and creating new opportunities for the growing population and reversing the exodus of youth from rural to urban areas. With this in mind, one area that is given priority by the government is the provision of tertiary education. This is to develop a highly skilled workforce of entrepreneurs that would cater for the country's current need of transforming the agricultural production system through efficient use of available resources and changing the peasant dependent economy to a more productive and trading oriented economic system. Apart from producing practical oriented graduates and entrepreneurs, the proposed university is envisaged to be a nucleus for attracting other development oriented initiatives and would have a wide economic impact within the country and neighbouring regions.
The mission of university would be to engage its students and professors in relevant, timely and effective university studies through training, research and inquiries, focused on agricultural education to produce skilled workforce. The aim is to contribute to the government efforts toward poverty reduction and promoting sustainable economic development through modernization of the agricultural sector and efficient use of natural resources. Thus, the main objective of the will be to facilitate and support the advancement of improved agriculture that will provide a basis upon which agricultural producers can increase productivity and returns from agricultural capital and labour. In turn, this will attract additional investment from within and outside the country.
The long term strategic‐plans of the proposed university, include the following:
a) To develop quality academic programmes and teaching pedagogy.
b) To attract, develop and retain highly motivated staff.
c) To establish and maintain learning facilities, infrastructure and services.
d) To cultivate and maintain an improved positive corporate image.
e) To establish, network and strengthen partnerships with relevant institutions.
f) To promote and participate in research, consultancy, dissemination of knowledge, skills and competency development.
g) To produce graduates who are competent, sociable and who can integrate well with members of the society.
h) To provide a framework for addressing HIV and AIDS pandemic.
i) To contribute to the implementation process of the Kenya Vision 2030 goals and targets.
j) To contribute to the implementation of the national policy on poverty reduction that stress
The education sector is rapidly growing in Kenya and this provides an enormous market for the business of providing quality education. With Kenya's ever increasing population of 40 million plus and enactment of the new Constitution in Kenya that puts greats emphasis on education and more so in agriculture , there is great demand in modern day agricultural training.
The land we have in our possession is abundant for set-up of the university and expansion into dairy farming and milk processing to increase revenue streams. Our location is ideal because there is no other university / college in our target area.
The concept of establishing the University of Agriculture and Technology is hinged on the premise that Kenya's economic development, in many years to come; will indeed depend upon the performance of the agricultural sector, which will be influenced by trained, practical oriented and skilled agricultural workforce.
100 acres (40 Ha) of land has been acquired and is readily available for the project. The funds will be used for construction of:
• Lecture halls, library, laboratories
• Administration buildings
• Student accommodation for 500 students
• Staff accommodation
• Auxiliary facilities
• Other necessary Infrastructure
Opportunity for the investor
We are looking for a hands on investment partner and we are willing to give up 40% of the company in equity.
Looking for similar investment opportunities