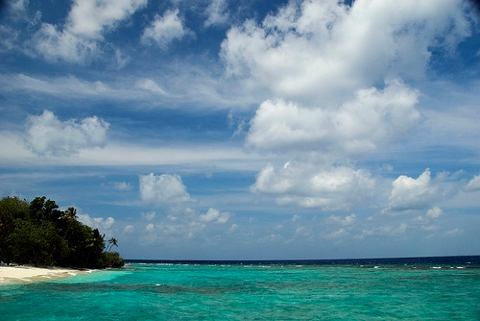 This is an opportunity to renovate a built house into a guest house on an inhabited island in Maldives and market them worldwide. Investment: US$100,000 to 250,000
Interested in: Investor, Business Partner
Location: Male' - Ga. Nilandhoo, Maldives, Asia
Sector: Hospitality, Tourism and Travel
Size: US$ 100,000 to 250,000
This is an investment opportunity to build a guest house in GA. Nilandhoo, an inhabited island (en.wikipedia.org/wiki/Nilandhoo_%28Gaafu_Alif_Atoll%29). This is expected to be a highly profitable business, which is at the very early stage in Maldives. Firstly we will renovate and furnish the guest house and start operating. The Land and house are my own property and I'm looking for an investor and a partner to start the business. In addition, a Travel Agency will be open and operated in Male' (Capital City of Maldives). Maldives is known as a perfect tourist destination, and especially this location is uniquely a mind-blowing natural beauty.
Maldives is a world famous tourist destination. Till recently, the tourism sector was dependent on resorts only. And inhabited islands were not open for tourism. Since Maldives is a high-end tourist destination Maldivian resorts have been very expensive and many tourists could not afford to visit Maldives despite their desire to do so.
Recently the Government has changed its tourism policy towards expanding the tourism sector to inhabited islands as well. This would be achieved by fostering the establishment of guest houses and other tourist facilities.
The size of the business can be decided according to the available fund. Maldives tourism is a highly lucrative business marketed all over the world. There is a huge market for Maldives because Maldives is a very famous place among tourists from all over the world, with more than 950,000 tourists visiting last year (2012).
Now it is the right time to enter the tourism industry of Maldives and start earning great profits. Anyone with enough funds to invest is now welcome to Maldives. The establishment of tourist hotels has been started by some investors and is now at early stage. Those who enter the industry first would get the most out of this opportunity, to enter the world famous tourist destination, Maldives.
The finance will be used for renovation of the guest house and providing guest services and facilities.
Opportunity for the investor
I'll go for an equity investment for this project with a 50% share for the investor. The investor can always advise me for a better option and will be given highest priority.
If anyone is interested to invest in the tourism industry of Maldives, please contact me for more details. I am here to cooperate with you as partner/land owner. Your suggestions would be considered and we could come to agreement. Everything would be legal and agreements will be made through our lawyers and will be government approved agreements.
If you are interested in funding/investing in to this business please contact me, and I will discuss all in details. I would be giving my personal details and contact, and am willing to contact via Skype or have a phone conference, so the Investor will be guaranteed that this is not a fraud and its Professional Business. Please feel free to contact me.
Image Source: Flickr CC, Author: Malcolm Browne
Looking for similar investment opportunities