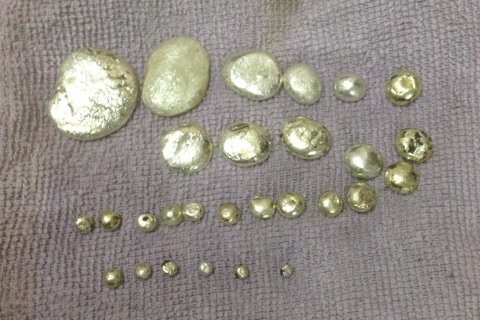 All the preparation work on the project is completed. We just buy factory, machine, etc and right of mining. Then, We can start quickly after finance receive.
1. Outline of project
Mining is performed by local people at the site for many years. The site is the T'boli family's land. They have 80,000 ha of Land. Mining is their main income source. However, since they do not have business knowledge, their process in which it results in mining or sale is not efficient.
This time, our company and T'boli people have agreed to cooperate an environment (BDF&CDM) project. As part of that, we cooperate also about gold mining. Since mining has already been performed at the site and equipment and a machine are also assembled, we only purchase it. So, we can start quickly when receive finance. Since this is a monopolistic contract of us and T'boli people, there is no room for the other company to intervene.
2. Background of project
In the main environment project, the Philippines have problems of finance (deficit), poverty (economic discrepancy), the environment (tropical forests loss, water pollution, and air pollution), and energy (It is possible to reproduce), etc. It became a base and we thought that would like to contribute to solution of the problem (Energy , Global warming , Assistance to developing countries ) which the world has. For us, the contribution's (job creation, poverty eradication, technological tie-up, etc.) to a developing country is a basic policy like the main environment project.
3. Marketing strategy
We mainly sell Gold to Bangko Sentral NG Pilipinas (Philippines central Bank). This is a government sector, which will be bought if anyone bring gold, etc. It has safely and certainly, although their offer price is lower than a private sector price. Therefore, There is no risk of our losing a customer. After a project rides on starting, we will consider private sector sale carefully.
4. Products and services
Since people of the district have already undertaken this project, productivity and technology are established. What is necessary is just for us to purchase the existing right, a factory, and a machine and then start it. Customer of gold is the Bangko Sentral NG Philipinas (Philippines Central Bank). Therefore, although an offer price is lower than a market but we can sell Gold certainly. Probably, in such senses, it is risk-free Gold mining.
We signed a contract with the land owner (the local tribe). This is exclusive project in 80,000 ha of land.
The flow of refinement and sale activities after mining is already secured.
Operating profit ratio: 95.15%
Ordinary profit ratio: 95.15%
Return on investment: 36.33% " per month " after start project.
People of district are performing Gold mining from ancient times. Track records such as output exist. We just buy factory, machine, etc and right of mining and start quickly.
In the case of minimum $104,400
Crusher, engine, equipment: $34,800
Lease of the 1,000 square meter factory for 3 months: $209
Utility bills for 3 months: $418
Permission for 120,000 square meters working spot: $11,600
Transportation costs for 3 months: $2,088
Personnel expense (3 plant administrators, 3 spot administrators and 20 workers): $7,516
Motorcycle (2 units): $3,712
Fixtures: $1,160
Miscellaneous expenses: $ 8,097
Contingency fund: $34,800
Total: $104,400
Opportunity for the investor
In case of a loan, the expected repayment period is 3 - 5 years at an interest rate of 3 - 5%.
In case of investment in equity, we will accept positively but we have some conditions below.
1. We can management and control to project 100%.
2. We must report (progress, finance, profit, management, etc) to investor (stockholder) periodically.
Looking for similar investment opportunities