Country: South Africa
Industry: Agriculture
Stage: Expansion/Growth
Investment size: $300,000 / min. $300,000
ROI: 479% in 5 years
Type of investment: Equity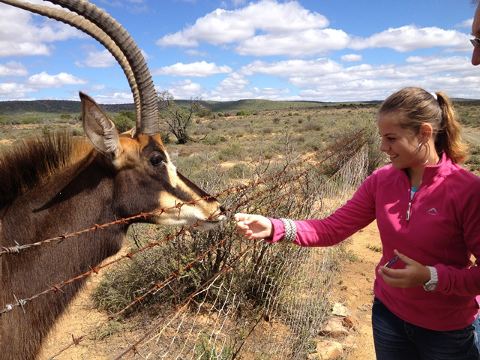 Investments now available for breeding of exotic and expensive game starting with Sable and Buffalo. Only 10 investors can be accommodated. 3 still available.
THE ONLY EXOTIC GAME BREEDING FACILITY IN THE WESTERN CAPE:
CAPENATURE CONSERVATION APPROVED.
Game Farm fully developed with 13 species of game , fully fenced and 10 game bomas. 40km from Beaufort West. Four hours drive from Cape Town. Investments now available for breeding of exotic and expensive game starting with Sable and Buffalo.
Only 10 investors can be accommodated. 3 still available.
INVESTMENT:
* R2.5m (cash) required per Investor: Sable 1:9 (1 x bull + 9 x females)
* Full Management structure in place.
* Free accommodation and enjoyment of farm, outdoors and wildlife
for investor and his/her immediate family.
* Return of 450%+ (Detailed Figures Available to investors only)
The farm is 2.4m game fenced and fully operational as a going concern with all required infrastructure.
Transactions managed by law and audit firm.
**VAT is excluded on all prices quoted.
This is ideal for the business person , wanting a game farm lifestyle to enjoy with family ,but also earning an income from exotic game species , and not to worry about the day to day operation and management of the farm.
Within the first breading season, this will be a lucrative business, for the few who invest.
We have a fully fenced 3300ha game farm, situated 40m south of Beaufort West. Only a four hours' drive from Cape Town. Currently a hunting farm being converted to a breeding facility for exotic and expensive wildlife, rolling out the first phase with Sable antelope. Phase two will be the breeding of Cape Buffalo and Rhino in a free roaming, natural environment. The facility is accredited with a certificate of adequate enclosure (CAE) issued by CapeNature with an approved Environmental Management Plan.
Contact the owner for more information.
OF THE 20,000 SABLES ROAMING SOUTH AFRICA, LESS THAN 50 ARE FOUND IN THE WESTERN CAPE PROVINCE
During the mid 90's , the first Sables were imported to the Western Cape. During 2003 CapeNature changed their translocation policy which declared the Sable "alien" to the Western Cape, which in effect meant that no Sable was to be sold (translocated) within the Western Cape. Now the market is open, and Sable in demand!
This is the first Sable Breeding project in the Western Cape.
MOTIVATION AND GOAL OF THE SABLE CAPITAL PROJECT
The goal is to breed and supply the huge demand for Sable within the Western Cape. The shorter the distance of road travel, the lower the risk of mortalities, the higher the demand locally.
The project is available to ten investors only, each to acquire a breeding herd of ten, consisting of one mature breeding bull and nine females. All Sables will be tagged and micro-chipped accordingly to indicate ownership. Local Vet available. This concept to lease the land and breed your own, is the most profitable option for the highest returns. Much higher return than a 50/50 share basis which is more common in the northern parts of the country.
Opportunity for the investor
Each Investor will need to purchase a herd of 10 sables , made up of a package of 1 breeding bull and 9 females with a mixture cows and heifers. This is expected to range between R2.5m – R3m excluding VAT, insurance and delivery. Projected, conservative figures indicates an expected return of 450%+ over a 10 year period.
Projected Growth: R2.6m in 2013 to R30m in 2023!
INVESTMENT MODELS
Ownership of Sables vested in Investors.
MODEL 1: Each investor will pay a management fee which amounts to a mere R2500-00+vat per Sable per month and 7.5%+vat on turnover of breeding gains and game sold. NO further cost to the Investor. Includes: Vet, helicopter, staff , feed , maintenance etc. Amounts to ±15% of breeding gains value.
MODEL 2: No management fee payable. All running costs , including Vet & Feed covered by Sable Capital. 50/50 split on all breeding gains.
Looking for similar investment opportunities