We are extremely happy and excited to inform you that 1,000 businesses already shared their investment projects on Merar. The team worked very hard to make this happen. We would also like to thank all of our members and supporters.
Guys, we would like to keep seeing you on https://www.merar.com
We have many new features on the site, the release of which matched the 1,000 active investment projects milestone. With this article we wanted to highlight some of the key changes as well as to describe the end goal which influenced the improvements we made.
The most recognisable change you are going to see on the site is the new member profile.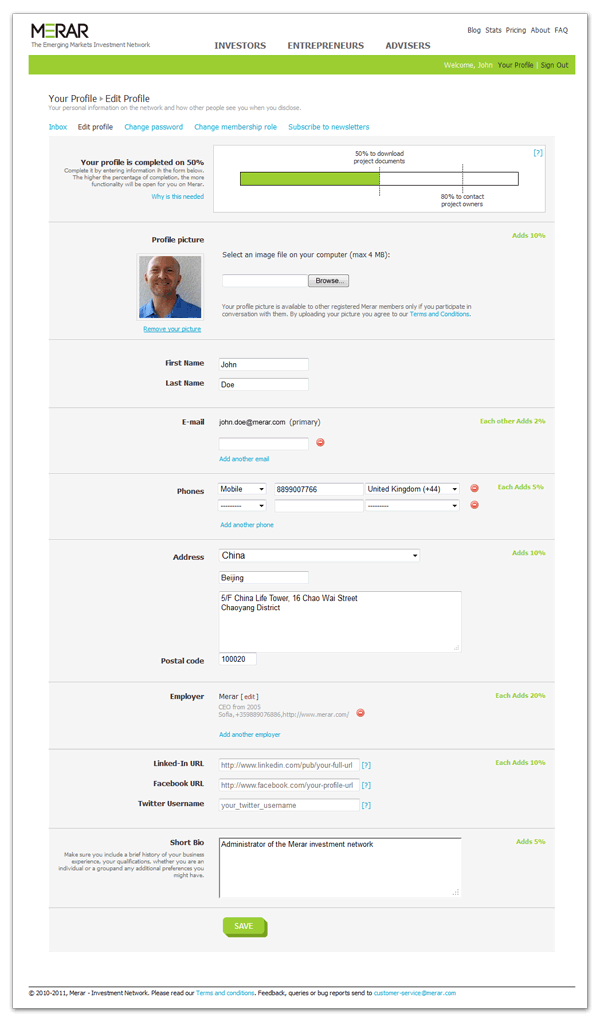 During the last 6 months we received numerous emails of members looking to receive more information about the other party when communicating and in particular:
Investors trying to receive more structured information about the knowledge and the experience of the entrepreneurs and the business owners. Frankly speaking sometimes, this is not important, but in most cases investors are interested in your background before they even consider talking to you
Entrepreneurs and business owners trying to identify fraudulent investors. Remember we wrote how you can protect yourself from Internet fraud? Merar collects as much as possible public information from its members in order to prevent spam, scam and Internet fraud. The details you are sharing with us are not disclosed neither being sold to third parties. Another reason for us to ask for so much data is to fight impersonation
It also turned out that the email is not enough to be the only way of communication. Many project owners were unable to receive messages from the Merar site because their email account was inactive some reason. This is why based on the feedback from the investor community we were pushed to increase the communication options and ask for more information in the user profile.
Share your thought and observations on the new member profile, make us aware if there are any problems (bugs or discrepancies) for you using it.
Image courtesy: Victor, 2010, Flickr CC.