In a speech two years ago the Indian politician Rahul Gandhi compared India with a beehive, a land buzzing of opportunities and potential that altogether form a huge economic power. Just coming back from his business trip to India, MERAR's CEO Petko Karamotchev corroborates India's enchanting energy and business spirit and adds that the beehive has the potential not only to lift and swirl its own economy but also to help other emerging markets learn and grow. We're glad to share with you here his insights from his recent stay in New Delhi.
The opportunities for business partnerships, investment and trade between India and other emerging markets such as those of Central and Eastern Europe (CEE) were among the main topics of public and private discussions during Mr. Karamotchev's business visit. Representatives of both the public and private sectors acknowledged the mutual benefits of boosting the exchange of goods and services, technological know-how and tourism flows between CEE and India. In compliance with the "Make in India" strategy, local delegates expressed special interest in attracting CEE companies to start operations and manufacturing in India.
The environment for such investments is largely favourable. The 1.27 billion market with rapidly rising middle income segment is a dream of every company. The industrial sector is booming, India aiming to become the second largest manufacturer in the world. At the same time the digital transformation of the country, with 31 million mobile phones being sold per month, opens new horizons for e-Business and customer targeting.
Moreover, the government is taking special measures to back investors by introducing tax benefits and easing administrative procedures. The cabinet led by Mr. Narendra Modi demonstrates decisiveness to fight corruption and bureaucracy and to make the public sector more accountable.
Witnessing these positive developments, MERAR is more convinced than ever in its intentions to foster business and investment relationships with India, with special focus on strengthening the India-CEE bond. We will keep on using our investment platform to direct investors' interest to India. Additionally introduce our virtual data room services to the Indian market in order to help increasing the effectiveness of trade and investment transactions.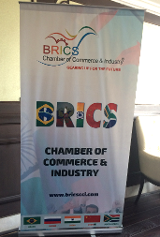 Mr. Karamotchev's business trip to India took place in the period 11th-16th February 2015. He was especially delighted to meet Dr. B.B.L. Madhukar, Secretary General of BRICS Chamber of Commerce & Industry, as well as Mr. Tanmoy Chakrabary, Member of the IT Sub-Committee at FICCI and Vice President & Head Government Industry Solutions Unit at Tata Consultancy Services. He'd also like to express special admirations to the organizers of IndiaSoft 2015, where he had the opportunity to meet and exchange ideas with over 150 members and delegates.
About BRICS Chamber of Commerce & Industry
Aim of the BRICS Chamber of Commers & Industry is eliminating investment barriers and building common regulatory framework to boost trade within the association of world's five major emerging economies: Brazil, Russia, India, China and South Africa.
About FICCI
The Federation of Indian Chambers of Commerce and Industry (FICCI) is the voice of India's business and industry.
About India Soft
IndiaSoft is an international B2B networking event organized every year by ESC India to bring Global Buyers and Indian IT companies under one platform.
About MERAR
MERAR provides solutions for the trusted sharing and availability of information in a controlled environment, with full security and compliance. The company aims to make information relevant through structured disclosure, whilst at the same time ensuring regulatory compliance and security.
Image courtesy: Kees v D, Flickr CC.