Since last September, China's overseas IPOs have taken place one after another in a quick succession. Even during the National Day holiday in China, which lasted from Oct.1 - 7, there were several Chinese firms that landed on overseas capital markets, including Mingyang Electric's IPO on the NYSE and Lanxun Precision's public listing on the NASDAQ. Among these overseas IPO debutants, there were a few big-names, such as SouFun, MicroPort, Dr. Frog, CSC and Besunyen, and most of them were backed by VC/PE institutions at some points in their developmental process, suggesting a rising trend of capital exits via overseas IPO sought for by institutional investors .
According to the latest statistics from CVSource - ChinaVenture's online database system, during the short period of Oct. 1—8 2010, as many as ten Chinese firms managed to get listed on overseas capital markets. With added to these enterprises completing their road-shows abroad, there were more than 20 Chinese firms landing on overseas capital markets, including 11 VC/PE-backed Chinese firms (Table 1).
Date

Company

Sector

Stock Exchange

Institutions

2010-10-1

Mingyang Electric

Alternative Energy

NYSE

DT Capital /Shenzhen Capital /Merrill Lynch /Tripod Capital

2010-10-1

ChinaCache

IT

NASDAQ

Qiming Venture Partners/Ignition/Investor AB/SIG Asia Investments/JAFCO Asia/Intel Capital/Tiger Global Management

2010-10-7

Trony Solar

Alternative Energy

HKEx

ICBCI

2010-10-7

SUNAC

Real Estate

HKEx

Bain Capital/Deutsche Bank A.G./CDH Investments/New Horizon

2010-10-7

DAQO Group

Alternative Energy

NYSE

GGV Capital /Siguler Guff /NewMargin Ventures

2010-10-8

Goldwind

Alternative Energy

HKEx

China-Belgium Fund

2010-10-8

Global IELTS

Education

NASDAQ

SAIF Partners

2010-10-11

Winsway Coking Coal

Traditional Energy

HKEx

Hopu Fund

2010-10-19

ShangPharma

Healthcare

NYSE

TPG

TBD

Mecoxlane

E-commerce

NASDAQ

Sequoia Capital China/Zero2IPO Capital

TBD

Xueersi

Education

NYSE

Tiger Global Management /KTB

CVSource, Oct. 2010
Table 1: China's VC/PE-backed Overseas IPOs During Oct. 2010
According to the latest analysis, since the third quarter, China's overseas IPOs have been on a drastic rise, as evidenced in as many as ten overseas IPOs by the Chinese enterprises within just the first week in the fourth quarter of this year. It is highly expected the last quarter of this year will be likely to see a boom in China's overseas IPOs. In terms of the deal size, the average amount of fundraisings for China's overseas IPOs in the third quarter stood at USD 427 million, up by 374.9% over the previous quarter, suggesting a rising trend in corporate valuations of Chinese enterprises on overseas capital markets (Figure 1).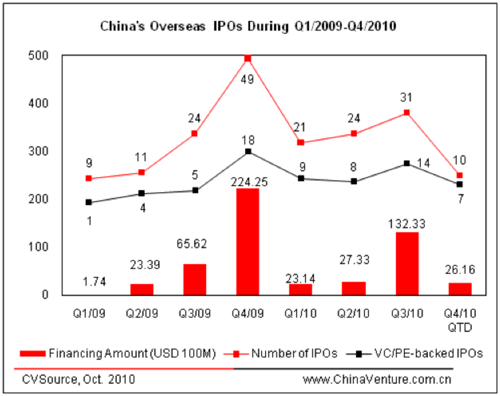 Figure 1: China's overseas IPOs During Q1/2009-Q4/2010
Most of China's overseas IPO debutants in this October have been backed by some investment institutions, indicative of a rising trend of investment institutions seeking for exits via overseas IPO. The average book ROI for IPOs in the HKEx since the third quarter dropped slightly compared with the first half of this year, while the figures for IPOs in both the NASDAQ and the NYSE registered a dramatic increase (as shown in Figure 2). One of the telling stories was SouFun. The company listed in the NYSE on September 18, 2010, bringing about an eye-popping book ROI of as high as 107.2 times to its backer, IDG capital, 11 years later, the highest ROI for overseas exits seen in the recent years.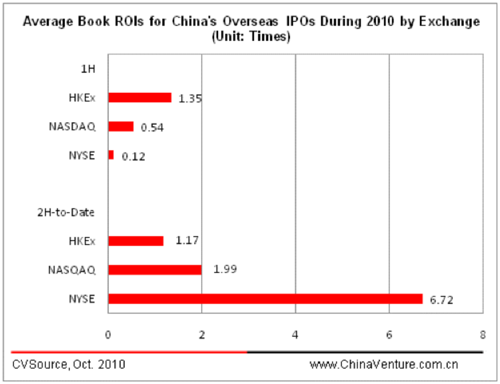 Figure 2: Average Book ROIs for China's Overseas IPOs During 2010 by Exchange
The boom in overseas exits were attributed to various factors: sustained recoveries in major economies, coupled with continued pickups in international stock markets for the past few months, contributed to the increasing activity in public offerings. On the other hand, China's overseas IPO debutants largely came from a few emerging or high growth sectors, such as TMT, alternative energy, consumer goods and education, which will be sure to benefit from the vast and ever-expanding domestic markets, as a result, these companies were overvalued on international capital markets.
In addition to high valuations, some USD fund managers were hard pressed to exit from their backed entities as life cycles of their funds are expiring, so, they are eager to push for quick exits by encouraging their backed entities to go public abroad.
In ChinaVenture's opinion, not only will a rising activity in China's overseas IPOs contribute to the performance of foreign institutions, especially USD-denominated funds, but also will give RMB-denominated local funds much more say in their fundraisings. Meantime, the latest development on international IPO market will also prompt investment institutions to adopt multi-currency investment strategies, and increase their allocations in their investment portfolios for local enterprises.
About CVSource
Created by ChinaVenture Group, CVSource is an online database system providing professional information and data solutions, including analysis of equity investment trends, records and analysis of investments and M&A activities, industry research, company analysis, analysis of funds and fund managers, breakdown of investment terms and conditions and studies on regulations on fundraisings and investments. CVSource is dedicated to provide information services to all players active in the Chinese VC & PE market--VC/PE investment institutions, limited partners, strategic investors, investment banks, law firms, accounting firms, research institutes, consulting firms and domestic companies seeking investors.
Download this report or read it in full screen